Please Click The Above Button To Sign The NATIONAL HOLIDAY FOR NATIVE AMERICANS Petition to All people of the world was created by United Native America and written by Mike L. Graham. This petition is hosted here at Eagle's Aerie as a public service. There is an endorsement of this petition by Eaglecloud Freeman the Author of this website. The petition scripts are created by Mike Wheeler at Artifice, Inc. For Technical Support please use our simple Petition Help form.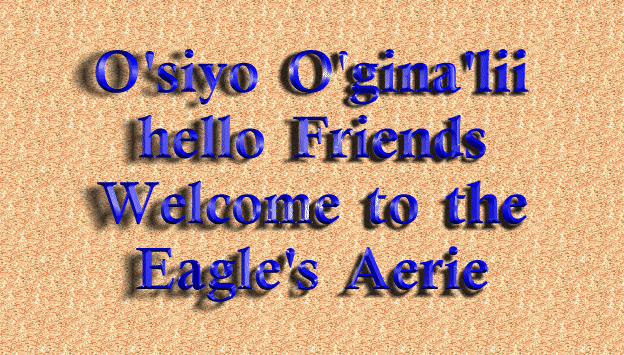 Welcome to the Eagle's Nest, hope you enjoy your stay.
Use anything you find. I only ask that you use the copywrite, and PLEASE sign the Guestbook. Thank You...
Remember " Mitakuye Oyasin " We are all Related.

Here are some of my interests :
I am male (age not important) "Tsalaghi"- Cherokee according to my Mom who now walks in The Spirit World and watches over me (I need it). I truly like Reading Indigenous Peoples Books and learning about the struggles that our Ancestors had in their life. I try to live a more Traditional and Spiritual life as I have been Taught. I also enjoy trying to write Indigenous People's Poetry using the Words that are given to me by the Ancestors...
Working on Indigenous People's Regalia and Ceremonial Articles, Growing and harvesting in a Sacred Manner the Medicines and Plants that our people used and need. I also try to use the knowledge and the wisdom that I have been given and taught to help other people in their times of need. I also enjoy passing on the Knowledge that I have been entrusted with to the Youth of our People today. Hopefully they will carry it on and keep it growing as more People come back to the Creators Path and Live with Mother Earth as it was intended...
Participating in all Turtle Island Ceremonies that I can, Sweat Lodges, Pipe Ceremonies, and other Rituals where I am needed and ask to help. I enjoy Pow Wows and truly love listening to the heartbeat of MOTHER EARTH (the Drums), Listen to the Heartbeat and gain INNER PEACE.


PLEASE FOLLOW THESE LINKS TO SEE ALL THE PAGES..

PLEASE SIGN THE GUESTBOOK BELOW
Click on the graphic to vote for this
page as a Starting Point Hot Site