This Page is DEDICATED to the SAVING of the BUFFALO and WOLVES, for are THEY not also PEOPLE in eyes of the CREATOR?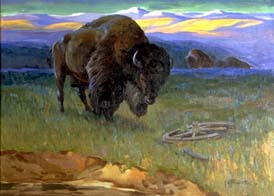 the Above are LINKs Please use them, Thank You
Native Man

He stands gazing intently on the land before him.
Tears flow slowly from his noble eyes.
His mind wanders back to time before times, days when his people as Guardians,
walked all this land, knowing no bounderies.
They walked from ocean to ocean, living the life of wandering nomads.
They lived off of the land, praying to the Four Winds, the Sun, the Moon.
Mother Earth protected them and provided for all their needs.
This was the time of the One People,
days of rivers full of migrating salmon and many other fishes.
Virgin forests teeming with deer, elk, squirrel, and rabbits.
Plains thundering and vibrating from the hooves of countless buffalo and antelope.
Seas full of clams, turtles, oysters, and fish.
These were the Majestic Days of the Proud Native American.
His tears flow more freely now; watering Mother Earth.
His eyes look out on fields and plains full of tract housing.
He longs for the beautiful Forests cut down to build these houses.
His Heart aches for the streams and rivers now full of rusting cars and refridgerators.
He cries for the bountiful seas, now full of oil and garbage.
Why has the Great Spirit allowed these things to happen?
What can we do to bring the land and waters back to life?
Can or should we simply stand here and watch Mother Earth Die?
Perhaps it is time for all of us to become Native Americans,
Guarding and protecting the Land; instead of destroying it.
We should all Pray to the Four Winds, the Sun, the Moon,
the GREAT SPIRIT,and to MOTHER EARTH.
We need to Beg for their Forgiveness and Guidence,
to HELP US SAVE THIS WORLD THAT WE LIVE on

Eagle's Wing Freeman.©1995